"

H
ow far back have you got?" is a questions often asked of family historians.
My replies are wide ranging: only 1884 with the major brick wall of being unable to find a birth certificate for my grandmother Alice English or any other record prior to her marriage to my grandfather; to 1736 and the baptism of my GGGG Grandfather John Danson son of Peter Danson, husbandm

an.
But for this week's "52 Ancestors" theme of "A Long Line", I am focusing for a change on my husband's GGGGG Grandparents , Samuel Donaldson and Anne Howison in South Leith, Edinburgh.

Research revealed Samuel to be a merchant, a man of property, a ship master, but also a bankrupt.
The Shore at Leith today - courtesy of Pixabay
My father-in-law John Robert Donaldson came from South Shields and often related how his Christian names had been passed down through many generations of the family.

He was proud of his Scottish roots, but vague on the detail, believing his ancestors came from around Edinburgh.
Research began by tracing the family back from South Shields, using certificates of birth, marriage and death, and census information. I was delighted to establish the Scottish connection in the 1851 census for South Shields where Robert Donaldson, mariner, was listed as being born c. 1801 in Leith, Scotland – this was a real bonus, as often census returns just say "Scotland" as a birthplace, and not a specific parish.
Another one of those typical family history coincidences - Leith was the place where our daughter was then working.
From there, research using
www.scotlandspeople.gov.uk, traced the family back to Samuel Donaldson, merchant, who in 1759 married Ann Howison South Leith, Edinburgh's seaport.
Marriage entry for Samuel Donaldson in the Old Parish Records for South Leith, Midlothian, 1759 - on ScotlandsPeople.

B
ut finding out more about Samuel Donaldson's life has proved challenging and I have hit the proverbial brick wall in 1759
I have been unable to trace a birth/baptism record, nor a death/burial record, nor a will, yet other indications were that Samuel at some point in his life had been a man of property and had five sons to inherit - David, John. Samuel,Thomas, Robert and three daughter Ann, Marion and Mary.
Following a Foolish False Trail
In trying to identify Samuel's parents, I found an entry in the Old Parish Records, a Samuel Donaldson born in 1729 in Kirkbean, Kirkcudbrightshire on the south west coast of Scotland. This very much appealed to me - the date was about right, the coastal location on the banks of the Solway Firth fitted with Samuel's later life as a merchant in a seaport and Kirkbean had an interesting history as the birthplace of John Paul Jones, founder of the American navy. (I know not exactly good genealogical evidence!) On the basis of following ancestral roots, we even had aa short break there exploring the area.
It was only many years later when I was writing the Donaldson family histor narrative, that I stopped suddenly and thought - I have absolutely no proof that the Samuel Donaldson, born Kirkbean was the same person as the Samuel Donaldson who married 30 years later in Leith and was my husband's G.G.G.G.G. Grandfather.
I had another look at the ScotlandsPeople website
and there were only 3 entries for a Samuel Donaldson born in Scotland in the relevant period:
1729 - Samuel son of John and Jean
1725 - Samuel, son of James and Jean
1752 - Samuel, son of John and Janet (too late for 1759 marriage)
The traditional naming pattern can sometime be a clue to identifying the "right" person. However Samuel's firstborn son was named David (probably after his maternal grandfather), though second son was John. None of his five sons was called James, and none of his three daughters named Jean or Janet.
Given that it was not compulsory to register births, marriages and death in Scotland until 1855, perhaps there is simply no record of Samuel's birth and no evidence to confirm the names of his parents.

So years of assumption and work on the background history of Kirkbean came to nothing, though we did enjoy our holiday there. And the lesson - don't jump to conclusions that can see you following a Foolish False Trail!
What about Samuel's role as a Merchant and Property Owner?
Surely a person described as a merchant would feature in other records?
I came across in the

B

ritish Newspapers Online on findmypast, this advertisement in "The Caledonian Mercury" of 3rd November 1759:

"To be sold by Samuel Donaldson at his shop at the foot of the Broad Wynd, Leith
a Cargo of fine pickled herrings for wholesale or retail."
A search of The Register of Sasines for Edinburgh[shire] at the National Library of Scotland brought to light property transactions of Samuel Donaldson of Leith.
[Sasines are Scottish legal documents on the transfer of property and go back to the 17th century]
"Registered 2 July 1770: On the 30 June 1770, Thomas Heart, wright in North Leith, acting as procurator for Samuel Donaldson, merchant in Leith, presented a Disposition, which had been made by James Scott, gunsmith in Edinburgh to Samuel Donaldson of a tenement of land in Leith lying on the north side of the Water of Leith.
Registered 25 May 1772: On the 23 May 1772, Samuel Donaldson, merchant Leith appeared personally and presented a Disposition which had been granted to him by James Thomson, merchant in Leith of his tenement of land with houses, close and well which had been erected by his father, Ezra Thomson, merchant in Leith

Registered 26 April 1774: Samuel Donaldson, merchant in Leith appeared personally and presented a Disposition which had been granted to him by Samuel Campbell, bookbinder in Edinburgh with the consent of Robert Shortreed, merchant in Leith and Archibald Caldercleugh, carter there of a dwelling house with a shop on the ground floor in Kirk Street, Leith, at the head of Tolbooth Wynd.
But a turn back this month into the newspaper archives, revealed that Samuel's business dealings had taken a turn for the worst. For in "The Caledonian Mercury" of 8th January 1776 appeared a notice, including
a reference to creditors of Samuel Donaldson.
"To be sold by pubic voluntary roup [auction] . the whole HERITABLE SUBJECTS belonging to SAMUEL DONALDSON, merchant in Leith".
"The elegant PLAINSTONE TENEMENT on the shore of Leith with a handsome back area and sundry dwelling houses, cellars, vaults, lofts and other conveniences".
B

ut Samuel seems to have recovered from this setback

and among the advertisements on the front page of "The Caledonian Mercury": 11th June 1785 was one for a ship of Samuel Donaldson trading between Leith and Hull:"
At Leith for Hull and Hull for Leith
WILLIAM HUNTER AND SAMUEL DONALDSON, traders betwixt these two places take this opportunity to inform gentlemen, merchants and others that:........
THE FRIENDSHIP
SAMUEL DONALDSON, Master
is now loading at Hull for Leith the 17th instant and will continue sailing from each place with the quickest dispatch in their power and to assure their friends that every attention will be paid to the forwarding of their goods
by applying to them at Leith.
A search for clues on Samuel from BMD entries for his children brought up one informative entry:
"I

n 1790 Ann Donaldson, daughter of Samuel Donaldson, shipmaster in Leith" to Peter Shaw, glazier in Edinburgh."

The only burial record found, on www.familysearch.org, was for a Samuel Donaldson who died in 1836, aged 70, buried at South Leith Chuch, Leith, who I am presuming is Samuel, senior's son, born in 1766.
Here my research on Samuel came to a halt.

I am positive that the records I found relate to "my" Samuel Donaldson, as I have not come across anyone else of that name and dates in Leith. He sounded an enterprising man not deterred by setbacks.
To conclude - the long line of nine generations of Donaldsons have been traced, from Samuel Donaldson's marriage in 1759 down to the birth of his GGGGGG Granddaughter, born in in 2008.
Watch this blog for more information on Samuel's descendants - their common denominator the sea.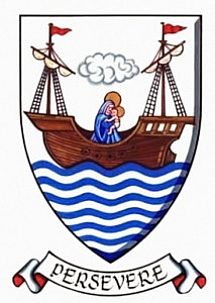 *************
Note: This is my first effort in my Focus Friday "Fresh Start" Resolution.