Elizabeth O'Neil of My Descendants' Ancestors hosts the Genealogy Blog Party and this month invites us to share what genealogy source we are thankful for this year.
Thanks to my blog, I have

been gifted a

family bible - belonging to my paternal great grandfather, John Matthews of Wolverhampton, Staffordshire.
The bible is a very weighty tome, more suited to a church lectern than a volume for the home. The elaborate first title page proclaims it as:
"The Illustrate National Family Bible. with the commentaries of Scott & Henry, containing many thousand critical and explanatory notes , edited by the Rev. John Eadie, Professor of Bible Literature to the United Presbyterian Church."
Published by Cassell & Company,

a small insert announces that the edition has been especially prepared for subscribers and is not available through general booksellers.
The 11 page preface, written by the Rev. John Eadie of Glasgow, is dated July 1851
My father's side of the family (Weston and

M

atthews) has always remained rather shadowy. They lived some distance from where we lived and we only met them once or twice a year, plus the fact that

so few photographs have survived of

the

two families.

They

have not featured much in my research beyond the basic facts of names and date

s, and an occasional article on my blog.
So I was amazed to receive

, via my blog,

an e-mail from a Matthews connection through marriage; moreover with the wish to give
family treasures

to a direct descendant

.

We

corresponded,

met and spent a happy afternoon chatting about our family history research

.
I
always knew from my father that his maternal grandfather John Matthews was a prominent member of the Methodist

C

hurch, but had not delved into research to find out more.
John Matthews ( 1843-1918)

,

my paternal great grandfather

Matilda Matthews, nee Simpson ( 1849-1929), my paternal great grandmother
Illustrated pages in the Bible gave space to record family events, headed by John, born 21st July 1843 at Cookley, Worcestershire, died 17th September 1918, aged 75 at Lanesfield Parish in Sedgley, buried in the family grave at Sedgley.
John married Matilda (no maiden name given) at St. Andrew Church, Wolverhampton 29th May 1871. Matilda was born in Birmingham 19th January 1849 and died at Lanesfield in 1929.
The birth of their ten

children,

and also their marriages
,

is recorded.
Alice Maud, born 1872

John Percy, born 1874 - my father's Christian names.
Mary Barbara, born 1876 - my grandmother

Fanny Elizabeth, born 1878

Arthur William , born 1880

Annie, born 1882

Samuel Albert, 1884

Harry, born 1886

Charles, born 1888

James Alfred, born 1892
John and Matilda suffered the early loss of four of their children:
Charles did not survive infancy, dying in 1889.

Fanny Elizabeth died aged 33 in 1909

John Percy died aged 36 in 1910 - his namesake, my father, was born in 1912.

Arthur William, aged 35, killed in action at

Gallipoli -

remembered

on

the

Helles Memorial in Turkey. leaving a widow and two young children.
My grandmother Mary Barbara Matthews
The gift of the family bible has given me a great incentive to find out more about my father's family - and bring them out of the shadows.
I obtained the marriage certificate of John and Matilda to establish that her maiden name was Simpson.

I googled "A Scott & Henry Bible" to find numerous entries on EBay and Amazon.
Mine is not for sale!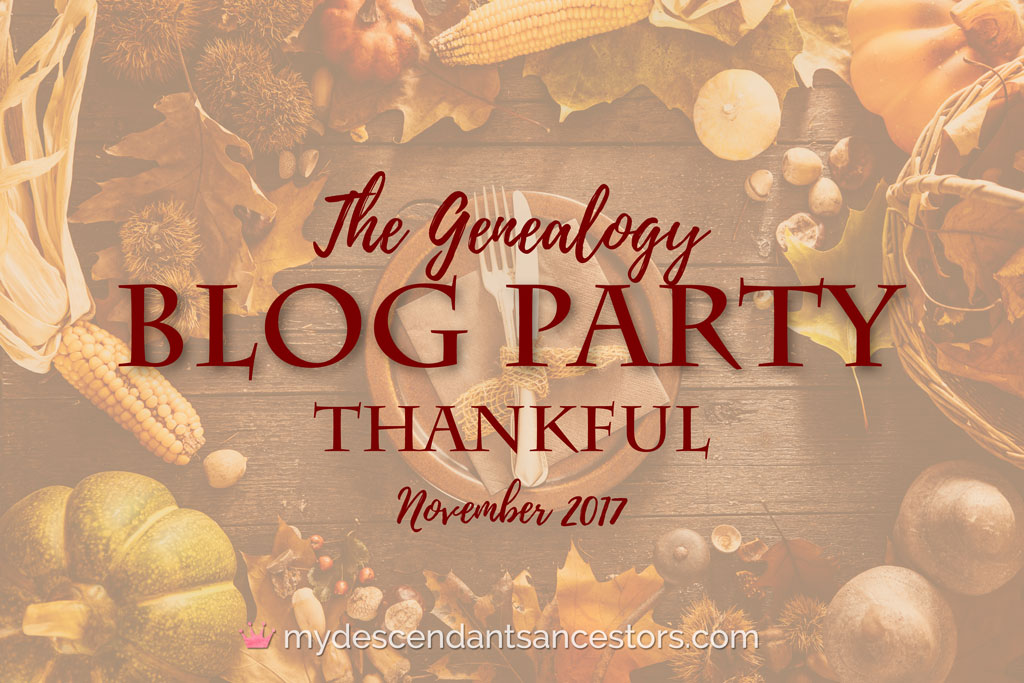 Genealogy Blog Party
Click on the link above to see other bloggers at this November Blog Party.
****************